Though there is a growing demand for DCDC MPPT charger suppliers, identifying the right manufacturers are not easy. If you are looking for quality products belonging to this category and range, it makes sense to know something more about us. We are a company by the name Li Power (Shenzhen) Technology Co. Ltd. We are based at Shenzhen and have more than 10 years of experience when it comes to offering different kinds of chargers and batteries that are required for generating electricity in off-grid situations and in remote places.
We have become a leading supplier and today whenever there is mention of quality China DCDC charger, there are reasons to believe that we are considered one of the best. There are many reasons for this and we are listing down a few of them for the benefit our readers and other stakeholders.
We Have Rich Experience
Not many companies in China have the kind of experience and expertise when it comes to offering the right DCDC MPPT solar charger. This is obviously because of the fact that we have more than 30 years of experience in the manufacture, production and supply of various types of high quality lead-acid batteries. We are also considered in the production and marketing of high quality lithium batteries. Additionally we also would like to place on record that we have more than 10 years experience in the field of manufacturing and marketing of solar products that help in power generation in off-grid situations.
The Best Of Facilities And People
Apart from riche experience in manufacturi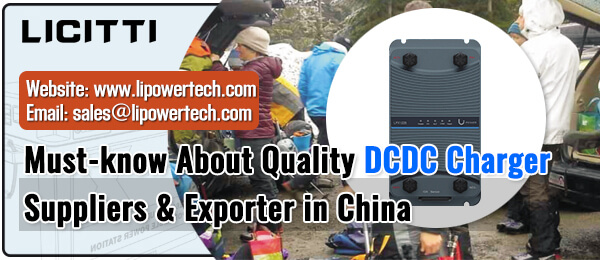 ng of lead-acid and lithium batteries, our experience and expertise in the area of solar products and other such associated appliances is also worth mention. Additionally, we have the best of manufacturing facilities at Qingyuan and Wenzhou, Zhejiang.
Our Qingyuan factory is spread over a huge area of 800 acres while our Zhejiang unit is around 10000 square meters. The Qingyuan unit can manufacture around 130 million KVAH. Our Zhejiang unit focuses mainly on solar panels and other related solar products. We have expertise and experience in making the best of folding solar panels, semi-flexible solar panels, solar blankets and other related items.
Therefore, whether it is solar based products or lithium batteries or lead-acid batteries, you can be sure that you will get everything under one umbrella.
Features Of Our DCDC MMPT Products
We offer a number of exciting features as far as our DCDC MMPT solar products are concerned. Here are a few of them:-
Our products come with dual inputs, both from solar panels and alternators. Our solar panels are compatible with smart alternator as mandated under Euro 6 requirements. We also can offer multiple-stage algorithm for the lead acid batteries. Our battery charging technology is advanced. It comes with inbuilt voltage and temperature control mechanism when charging is taking place. We use a number of battery chemicals such as GEL, AGM, LFP, etc. All our solar products and batteries are water proof.
To conclude, Li Power (Shenzhen) Technology Co. Ltd, can cater to the needs of solar products from all countries including countries of Europe, and also countries like USA and Australia. Please contact us for any solar panel or other solar products and rest assured that you will get the best solution taking into account the specific likes and requirements of our valuable customers.