The portable power generator is essential equipment widely used for different purposes including in running computers, telecom equipment and the like where uninterrupted power supply is essential for high and accurate performance.
Portable power generators
This has necessitated the use of portable power generators based on lithium High capacity lithium portable power station are useful for a wide range of applications including vehicles. Lithium-based portable power generators are safe and help accrue power consistently.
Choose the best Portable Power Generator
Today, there are quite a few companies engaged in making portable power generator makers. Yet, make sure to choose one of China Outdoor Portable Suppliers. China made portable power systems are known for its durability, consistency and optimal performance.
LI Power
Li power (Shenzhen) Technology co., Ltd. is situated in Shenzhen, China. The company has been in the business of designing, developing, supplying outdoor power field. The company makes lithium battery, AC/DC batter bo, foldable solar panel. pure sine inverter, MPPT controller, etc.
Further, the company specializes in providing customized product to its clients located anywhere in the world.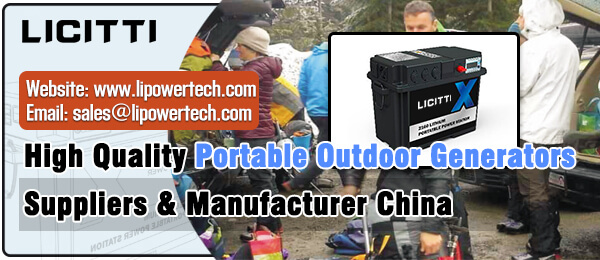 The company has state-of-the-art equipment and skilled workforce who contribute immensely to the growth of the company.
Li Power is committed to developing, making and selling of outdoor power technology and products. The core team of the committed to bringing the best quality products and services. The core team has a decade long experience in the outdoor power supply. Over the decade, the company has gained experience and knowledge and therefore, has learned new techniques.
Today, Li Power has reached the state when there is a considerable amount of demand in American, European and Australia.
Products
There are many portable power generator suppliers in China. Li Power leads China Outdoor Portable Suppliers thanks to their quality product and outstanding services.
Products and services offered include battery body, lithium portable stop, pure sine wave inverter, battery products, customized power cable kit, outdoor folding solar panel. customized power cable kit and more.
Li Power's factories
The company has two factories.
The battery factory is located in Qingyuan, Guangdong: China. Spread over an area f 300 acres, the annual output stands at 13 million KVAH.
Li Power is into the domain of production and manufacture of lithium-based and lead-acid batteries. Further, the company has over a great deal of experience in solar products manufacture. It has gained knowledge for strategic purposes as well.
The solar panel factory has also a factory dedicated to making solar panels for portable solar generator. The factory is located in Wenzhou, Zhejiang and measures 10, 000 square meters. The factory has a competitive advantage in making solar folding panes, semi-flexible solar panes, solar blankets, etc.
Choose Li Power Portable Power Generator
Make sure to choose Li Power to meet your need for a portable solar generator. This is because of the wide range of products high-quality service that is offered by the company once you get once you become a client. Further, Li Power is not only known in China but overseas including adduced economies such the United States, Australia and Europe.
Contact
If you're looking for help to start a business in Portable Power Generators, contact Li Power. To contact them, visit the official website and send an email.