Li power Technology is a top DCDC charger manufacturer company based in Shenzhen in China. This company deals with the production of outdoor power such as lithium battery, DC/AC battery box, pure sine inverter, foldable solar panel, solar blanket, and MPPT controller, among others.
Advantages of LI power
There are numerous advantages when it comes to LI power including
I. High energy density
LI (lithium Ion) batteries have a high energy density, which is of great importance when it comes to electronic devices such as phone which consumes a lot of power. The lithium-ion battery is also used in the electric vehicle due to its high energy density.
II. Low maintenance
Lithium-Ion power doesn't require any maintenance as opposed to other batteries such as Ni-Cad which require a periodic discharge to ensure they do not exhibit the memory effect.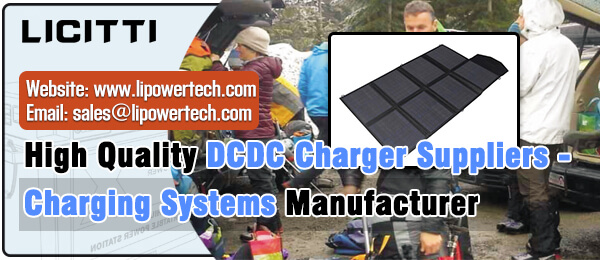 III. Self-discharge
This type of batteries have a low self-discharge rate that is the discharge rate is approximately 5% in the first four hours; then it reduces to 1-2% per month.
IV. They do not require priming
With LI power there is no need for priming, unlike other rechargeable batteries.
V. Numerous types available
There is a wide variety of cells that are made from LI power, thus means one can choose the one that perfectly meets their need. For example, those lithium-ion cells which have high current density can be used in a mobile phone while those higher current levels can be used in electric vehicles.
Features of DCDC MPPT solar charger
This is among the several products manufactured and supplied by LI power Technology Company. Some of the features of DCDC MPPT solar charger include;
1. The charger has multi charging algorithm stages for a lead-acid battery.
2. The charger also has double inputs for both solar panel and alternator.
3. The charger is also compatible with Euro 6 (smart alternator).
4. The charger is composed of multiple chemicals for batteries such as GEL, LFP, AGM, among others.
5. The charger is also a built-in voltage compensated and also automatic temperature for battery charging.
6. This charger is also waterproof, compact and contains IP65.
7. The charger is created using Max Power Point Tracking technology.
Advantages of DCDC MPPT charger Factory
1. The dual input DCDC MPPT solar charger can draw power from both solar panels and smart alternator thus providing proper charging services when driving.
2. The solar charger is also compatible with smart ECU alternator, which is controlled. This alternator is used to variable output in case they are not needed.
3. The solar charger is also capable of maintaining charging with stable output, thus taking the shortest time possible to charge the battery fully.
4. This type of charger also helps to protect the starter battery even when the engine is stopped without causing problems during starting of the engine.
In conclusion, LI power Technology Company is a reliable company when it comes to outdoor power with over ten years of experience in the field. They provide portable, long service life, high power, and high-efficiency LI power product. The company has excellent customer service who take new demands from the customers. It also has a team of developer who is very innovative and comes up with new products to help meet the need of customers. All this is made possible by China Outdoor Power System Solution Provider.