Power tools are tools which are actuated by an extra power mechanism and source other than the merely manual labor utilized in hand tools. Most common power tools currently in the market utilize electric motors. These power tools are categorized as either portable or stationery, whereby portable simply means hand-held.
Why you need a Portable Power Station
Portable power stations typically are ideal for extended camping events, power outages or for other situations whereby lots of power is required on the go. If you are living in a location with frequent blackouts or if you love spending most of your time outdoors, a portable power station definitely is a great device you should consider investing in.
Where to Find the Best Portable Power Station Suppliers in China
Are you hunting for the leading China portable power station manufacturer for your market? We have you covered! Here at Li Power, we are the top portable power station manufacturer in China. Though our company is based in Shenzhen, China, we are one of the best suppliers of portable power station worldwide. Our prime goal is to make a remarkable contribution to the world outdoor power industry by providing the best products and services you will ever find. Give us a call today to learn more about our portable power stations and why you need them for your different activities.
Our Extensive Range of Items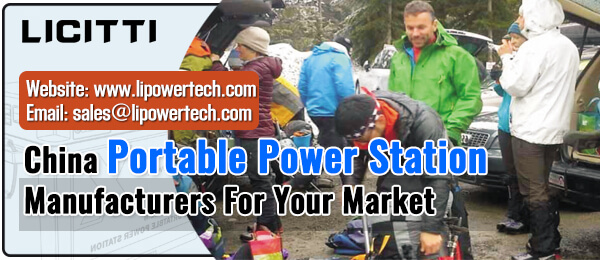 At Li Power, we offer an extensive range of items including solar portable power station, lithium power station, AGM portable power station, outdoor folding solar panel, customized power cable kit, and battery products among other power related items. We are committed to the production, sale, and progress of outdoor power products and technology. Our goal is to make sure power is accessible to our different clients in different areas at any given time. Call us today and we will handle all your energy needs by supplying you with premium portable power stations at economical rates.
Why You Should Choose Us as Your Portable Power Station Supplier
Here at Li Power, we offer professional, efficient, and dependable outdoor solutions for everybody who loves outdoor events around the globe. Whether you are a business person, a hiking enthusiast, or living in an area with frequent power outages, you certainly need a portable power station in order to be prepared for the mishaps caused by lack of electricity.
Cutting Edge Technology
We use the best materials to manufacture our various products. Here at Li Power, our incredible team of professionals has extensive experience to make sure the highest quality is achieved. We use state-of-the-art tools in our production to make sure only high-quality and durable items are produced. Consider our portable power station today and we guarantee you'll get a device that will stand the test of time to serve you for many years to come.
100% Satisfaction Guarantee
We are so confident with our products and that's why our portable power stations are backed with 100% satisfaction guarantee. In case you encounter any issue with the products you order from us, or if you're not satisfied with the outcomes you get from our power station, you can return them and get a refund. Our motive is to make sure you're happy and pleased with everything you get from us.
Make an Order Today
Looking for the highest quality portable power station? We have you covered! Call us now to learn more about our items and services, or for free consultations and estimates on all the products we specialize in.