Hunting for the leading DCDC MPPT charger factory in China with top-tier items and excellent customer support? Hunt no further! Here at Li Power, we are China's foremost DCDC charger manufacturer. We strive to design, produce and sale outdoor power products to make sure our esteemed customers are having a continuous power supply wherever and whenever necessary.
If you are looking for China outdoor power system solution provider, we have the technology and tools to make sure your power needs are sorted out promptly, and with the expertise that is deserved. For the highest quality DCDC chargers, don't hesitate to give us a call right away.
The Top DCDC MPPT Charger Factory in China
Here at Li Power, we are devoted to the development, construction and sale of top-tier outdoor power items. Our objective is to provide professional, energy-saving and dependable outdoor power solutions to all our clients in love with outdoor activities in different regions around the globe.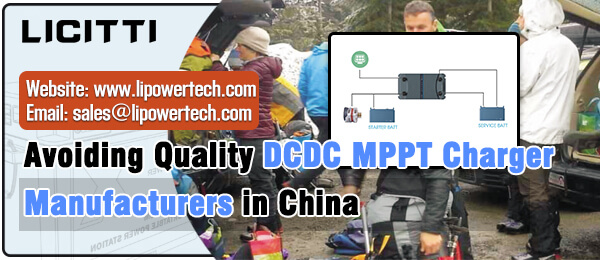 We specialize in the manufacturing and supplying of a wide array of items, including but not limited to DCDC MPPT chargers, battery box, lithium portable power station, outdoor folding solar panel, and customized power cable kit. Our items are suitable for different activities that require continuous power supply including, outdoor camping events, hiking, and long distance trips among others. Call us ASAP for reliable, portable power solutions at affordable costs.
Experienced and Dependable
Here at Li Power, we have been in the business of manufacturing and supplying portable power items including, lead-acid batteries, DCDC MPPT solar chargers and other products for several decades now. Since our establishment, we endeavor to make top-notch products that are extremely reliable and durable, and we always make sure all our products and services are unequalled in the industry.
For unique, customized DCDC MPPT chargers, call us now and we will make sure you get portable power solutions that are of the highest quality in a superfast and efficient manner.
Online Orders and Inquiries Accepted
We know how difficult it can be to locate a reputable supplier of DCDC MPPT chargers and other portable power items. That's why we offer round-the-clock solutions to make sure all our clients can access our quality items any time in need.
Here at Li Power, our items and services are accessible online 24/7. Whether you want to make an enquiry, or you want to make an order, don't hesitate to link with our online team now. Our online professional and friendly support staff is always available and ready to handle any of your queries immediately you call.
Safe and Secure Delivery Process
We provide prompt delivery solutions to make sure our customers save the transportation cost they would otherwise incur when coming to purchase items directly from our factory. Our delivery team is quick and will distribute all the items you order from our factory right to the destination of your preference within the shortest time possible. Order your DCDC MPPT chargers or the other items we specialize in now and get them as quick as possible at your preferred location.
Here at Li Power, our customers get the first priority before other things. We go the extra mile to ensure you get top-tier power solutions that make you satisfied always. Call us now for a free consultation and quote on the different portable power items we make here at Li Power.