Why choose a solar panel in the first place?
World is moving forward and new technologies are being invented and brought to reality every now and the. It is not new that you see a new technology replacing the old ones and dramatically change the whole system that is surrounded along that product. Every new advancement in the technology is bringing new facilities to the people, but the price that nature is paying for that is very high and nature being affected by something is not a good sign for human beings. Everything that we are using today is working because there is some kind of fuel that is being utilized to do make it work and most probably is a non-renewable source.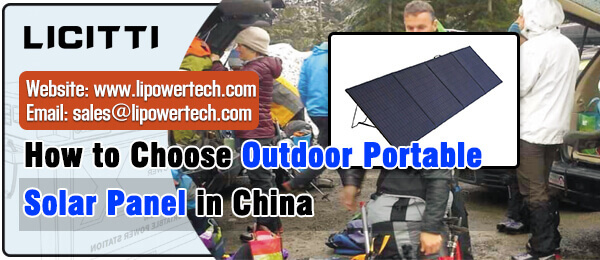 The research of the using renewable sources as a fuel did not develop because some scientist thought that it should exist, it was developed as a result of mere need and the need of reducing our dependency on these non-renewable sources. It is clear from the beginning that these non-renewable sources will be gone after some time and it is a wise choice now to shift on renewable sources right now because sooner rather than later, it will be a need and immediately shifting may cause trouble.
Choosing a solar panel to fulfil your electricity needs not only a convenience for now, but is a step in the right direction for future. You choosing solar energy over any other source of energy not only is beneficial for you as a person but you are helping the planet to survive.
Benefits of choosing a Solar Panel
There are numerous benefits of choosing a solar panel instead of going with the traditional methods to fulfil your electricity needs. First of all, it will save you money. Consuming electricity from a power station is definitely going to cost money and you have to pay those large monthly bills that will loosen your pocket. Grabbing a solar panel may not fulfil your whole requirements but will reduce your consumption of electricity that was initially fulfilled by the electricity provided by the power station. Moreover, installing these solar panels will not cause any Greenhouse gas emissions. This is a technology that will help you in many ways.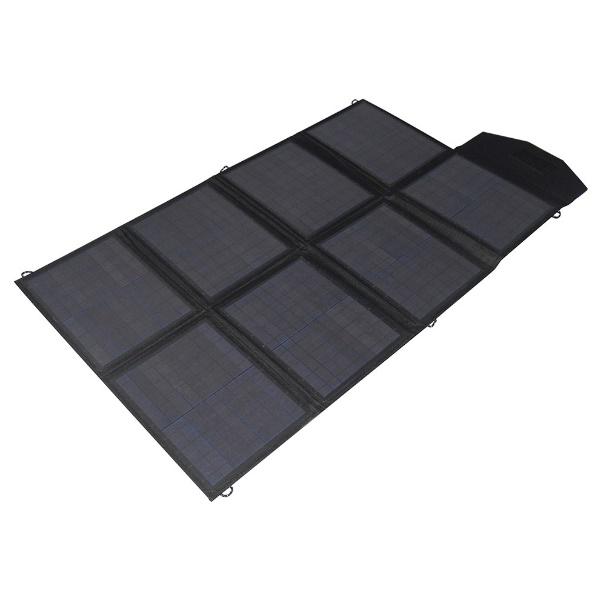 Solar energy is a secondary source of electricity and will effectively cost you nothing, not a single dime. This means that you don't have to worry about the monthly payments of the bills and don't have to worry about your electricity consumption because all of your electricity is coming from the sun, and who pays for using sunlight? No one, right. That's why investing in a solar panel is not only going to save you money but it will not have any monthly cost too.
Moreover, you don't have to worry if the weather is not sunny. Solar energy is not generated from sunlight, but its source is daylight. So even in those cloudy days, you don't have to worry that if your solar panel is generating electricity or not, because it is generating electricity no matter how the day is. That is why, buying a solar panel is not a purchase, but is an investment that will surely help you in the long run. You are not paying for something that will be useless after using one time or more than one, you are investing in a technology that is surely going to be with you in future and will stay for a long time helping you along the way.
Why choose us?
We at LI Power Technology, make some of the best solar power tech that you can find. The quality of the products that we provide to the customer is extremely good and the customer satisfaction rate of our products is very high.
We at LI Power Technology believe that the product can only be good if the quality of the materials used to make that product are very premium. Because product like solar panel is not a thing that is a one-time use product or service. It will and has to stay with the consumer for a very long time. These type of technologies have to be of best quality and we provide that without a doubt.
We at LI Power Technology use A-class monocrystalline cells, & SUNPOWER cells which are specially imported from the United States and are of the best quality possible.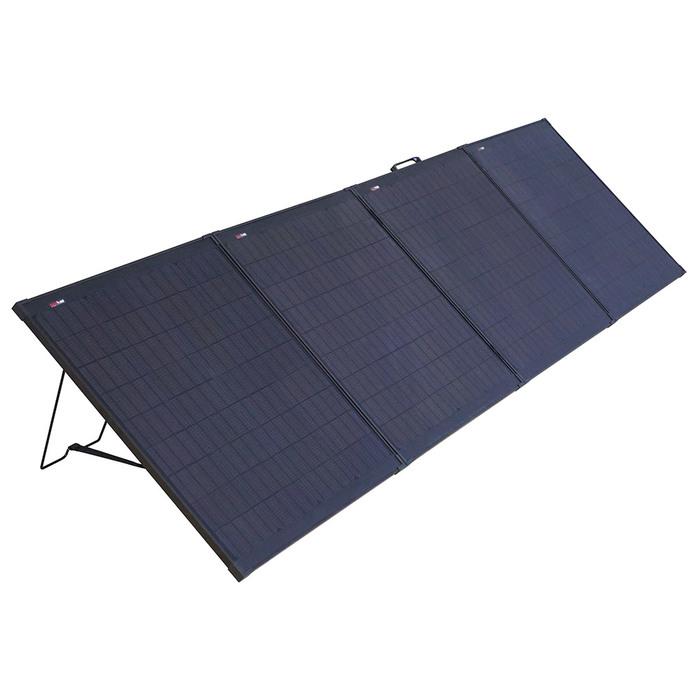 These high quality cells ensure that the efficiency of the panel in converting the light into electricity is very high and most of the sunlight is used in the best way possible. Moreover, these high standard materials mean that the photo-electric conversion rate of the product is very good.
Not only cells, but the overall build quality of our solar panels is premium, that is why we guarantee 10 years of product quality. Moreover, our panels are built with very high quality materials such as aluminium. These high quality materials ensure that the product lasts as long as it can and for that reason, our products are rated to give above 25 years of service to the user. Our panels are corrosion resistant, radiation resistant, and wear resistant.
Our solar panels are made with one thing in mind and that is quality and we have always made it our priority.
Our solar panel comes with an integrated MPPT or PWN controller that ensures that the panel is easy to use so that you are not left confused while using the product.
You don't need to search out for manuals for using our product thanks to the MPPT or PWN controller. Plug and play is a breeze. Our products offer great flexibility in terms of customization. Our panels range from 300 Watt and above and are foldable too. So you don't feel the lack of power while using our product it is sufficient.
We not only provide the best panels, but our products are ready to use. You just have to install them in order to use them and there is no hassle in that.
We provide all the necessary accessories that are needed with the panel. This ensures that you will have a peace of mind after purchasing our panels. So, don't even think twice if you are thinking to buy our panel because the things and features we offer are the best value for your money.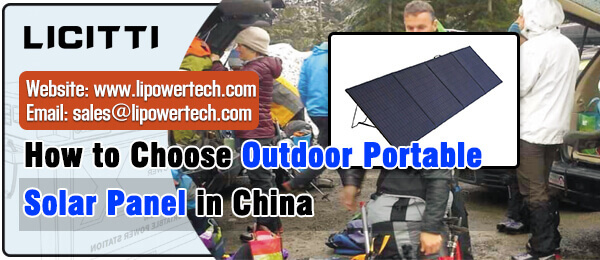 Why choose a solar panel in the first place? World is moving…
https://www.lipowertech.com/wp-content/uploads/2020/04/07-How-to-choose-outdoor-portable-solar-panels.jpg
260
600
lipowertech
https://www.lipowertech.com/wp-content/uploads/2022/02/LICITTI-Logo-Power-This-Moment.png
lipowertech
2019-08-22 16:00:05
2022-03-03 16:15:30
How to Choose Outdoor Portable Solar Panel in China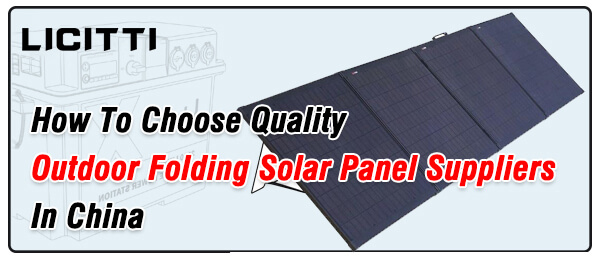 https://www.lipowertech.com/wp-content/uploads/2019/08/33-Choose-an-excellent-supplier-of-outdoor-folding-solar-panels.jpg
260
600
lipowertech
https://www.lipowertech.com/wp-content/uploads/2022/02/LICITTI-Logo-Power-This-Moment.png
lipowertech
2019-03-01 21:36:49
2022-03-03 16:49:33
How To Choose Quality Outdoor Folding Solar Panel Suppliers In China
https://www.lipowertech.com/wp-content/uploads/2020/04/07-How-to-choose-outdoor-portable-solar-panels.jpg
260
600
lipowertech
https://www.lipowertech.com/wp-content/uploads/2022/02/LICITTI-Logo-Power-This-Moment.png
lipowertech
2019-08-22 16:00:05
2022-03-03 16:15:30
How to Choose Outdoor Portable Solar Panel in China