What's your experience with power outages? No one has ever been happy with a sudden loss of electricity. They can really mess you up, especially when you're in the middle of something very important. That's why you need a backup power supply.
A battery box is a perfect gadget to solve your problems. You won't have to lose your unsaved work or stop working due to loss of electric power. It is a perfect power backup that can enable you to go on with your work. It also supplies power to places that need portable power.
Now, where can you find the highest quality of battery boxes in China? Many companies supply them. However, you need to choose from the most reputable battery box manufacturer. That's where LI Power comes into the picture. It is an awesome China battery boxes supplier.
Who is LI Power?
This is an excellent company that specializes in supplying and exporting high quality plastic battery boxes. Located in Shenzhen, this company develops, produces, and supplies outdoor power products and technology.
Having been in the industry for more than 10 years, we have enough experience to produce exactly what the market needs. We also manufacture lead acid batteries and lithium batteries.
What products does LI Power Company supply?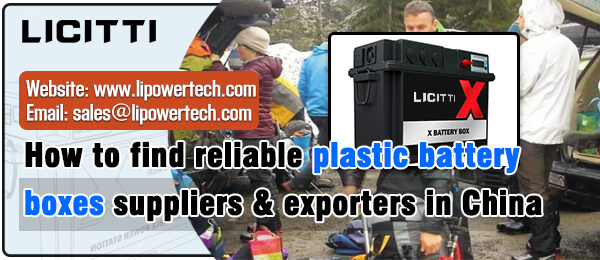 Apart from battery boxes, we deal in a wide range of power products. These are some of what we supply.
1. Lithium portable power station
2. AGM portable power station
3. Outdoor folding solar panel
4. Pure sine wave inverter
5. Customized power cable kit
6. Battery products
7. DCDC MPPT solar charger
Features of the battery box
This is an extremely customized box that can bear up to 35kg of weight. Other features are as follows:
• It has two strong hold-down straps that secure the inside battery and the box.
• It is portable, easy to carry around and easy to install.
• It has a 50A circuit breaker or fuse cable.
• It is made of a strong ABS case.
• It has multiple power ports. These include Anderson plugs, cigarette lighter sockets, AC output, and USB.
• It has a multi-function display.
• It has a 1000W built-in pure sine wave inverter.
Why LI Power Company is the real deal
You can always get these products from other places. However, why should you buy from LI Power Company? Check this out.
1. Awesome prices
This is the only place you'll find high quality power and technology products at very affordable prices. There is no need of spending a fortune on just a battery box or any other power supply equipment. That's why we care for our customers' finances. At LI Power, you can save a lot. Don't forget we offer discounts and coupons.
2. Best quality of products in the country
We supply out products to the global market. Over the past 10 years, we have exported our products to many countries. The quality of our products meets the international standards. That's why you'll never go wrong with us. We have the best engineers a company can have. They are all experienced in making the best quality of power products.
Conclusion
For all your battery box and power backup needs, LI Power is always there for you. You can also order a custom battery box or any other product and you'll receive exactly what you ordered. Do you want to solve your problems with power outages? Make sure you contact LI Power Company for a permanent solution.