It can be difficult to find the best China solar panel suppliers to supply quality outdoor folding solar panels unless you know about different types of solar panels available in this country. You can find a number of China outdoor system factory/factories that produce folding solar panels of various types. So while finding the most reliable folding solar panel suppliers in China you will have to be a bit more careful. You should, first of all, know how to select the best folding solar panels so that your supplier cannot bluff you.
The tips provided here under will allow you to choose not only the best solar panels but also the most reliable folding solar panel suppliers in China.
The durability of folding solar panels: You should look for a folding solar panel that can serve you for a long time period wherever you go. You may need it for all types of outdoor activities including outdoor camping etc. so your solar panel should be able to work in any weather condition including snow, sun and rains.
The weight of the panels: Other factors to consider while buying the best folding solar panel is its weight and size. The weight of your folding solar panel should be light so that you can carry it anywhere easily. However, its size can be reduced easily by folding it to make it easier to carry wherever you go. But you may have to buy a larger solar panel if you want a higher amount of power supply.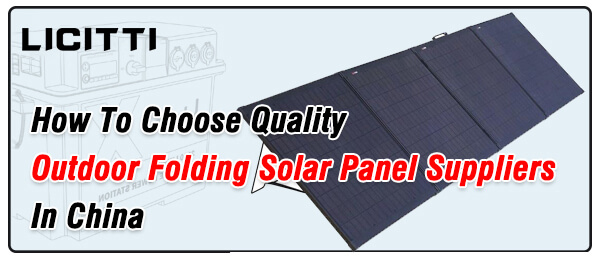 Battery for storage of power: You will be searching for folding solar panel suppliers to ensure unhindered supply of power. So before finalizing to buy folding solar panels, you should confirm about its battery in which you can store the solar energy converted into electric energy to use it later on. You can use its battery to charge your battery operated devices including your laptop, tablets and mobile phones etc. when you are not at home or enjoying at outdoor camp etc.
Features of your folding solar panel: Before finding a China outdoor system factory you should also know the type of power required by your gadgets and how many sources the penal has to power up your devices. If you have various gadgets including laptop, tablets and Smartphone while going out for a camping trip with your folding solar panel then it must have several outlets so that you can recharge most of your devices simultaneously without wasting time in waiting.
So, the tips provided in this write-up will help you to choose the best source of power for your outdoor trips. It will enable you to keep all of your devices charged every time. When you know how to find the best folding solar panel in China then you will be able to find the most reliable China solar panel suppliers easily. The folding solar panel suppliers you shortlist in China will not be able to cheat you as you know which solar panels are suitable for you and which not.