There are many China X Battery Box suppliers that are targeting the US Market, but many of them produce batteries of poor quality. If you are not very careful, you might end up making a purchase that you will regret in the near future. So what should you do to make sure that you can buy a high quality battery box which will last longer for you? Ok, we don't want you to feel worried about this whole issue. Let us take you through some
of the very important tips which we believe will work best for you when you decide to buy this battery box.
The Best Outdoor Battery Box Factory to Deal With
A simple online search will yield you a lot of results about X Box suppliers in China. But the questions remain the same: Are they genuine manufacturers and Sellers? Do they supply good X Box batteries you would love? We guess, you can't tell this! Most of those online battery
dealers are just bogus companies seeking to make a fortune on the Internet. But if you buy an X Battery Box from a Chinese company like Li Power, you will not regret that at all. This is the leading supplier of the most powerful box batteries in the entire region of China. We will discuss more about their product below as we show you some of the things you should consider when buying an X Box Battery.
For How Long Does the Battery Box Lasts?
When we talk about the durability of the battery box, there are two aspects we will be referring to. The first one concerns the time for which the battery box will be used after a full charge. Secondly, we want you to consider the time you would spend using that battery box after buying it from the manufacturer. Both issues are very important. Obviously you won't spend your money on a battery box which will not last for longer hours after charging it. Similarly, buying a battery with a short life span is tantamount to committing suicide. Without any use of a quantitative
analysis to measure the battery's durability, the battery box's weight can tell you the whole story. Good batteries are heavy to lift up. They have stronger outer casings and, are composed of metallic components inside.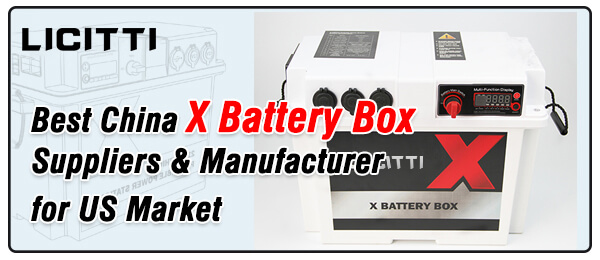 The Li Power's X Battery Box stood out as the most durable battery you could find on the Chinese market. It weighs 35 kilograms and it last for a very long time.
Application and Uses
Buy a battery box which suits your needs and avoid disappointments. Good battery boxes like the Li Power's X model are ideal for almost every use you would require. The X Box can be mounted on a vehicle as a backup power supply; it can also used for emergencies, and in both home and industrial off-grid systems.
Availability of Warranty and Length
Buying a battery box is not that cheap that you can simply pay off your money and ignore the issues to do with warranty. So make sure you have an option to repair your battery freely after making a purchase. The X Battery Box is the best option you have, as it comes with a 12 months warranty.
Here is where you can find it.
Source references: