When it comes to a battery case, you need to select out of the many options wisely. Many battery boxes may seem good to the eye but it is the technical part that really matters. Expectedly, there are many battery big suppliers in China but one battery box manufacturer stands out of the rest, Li Power(Shenzhen) manufacturers. The product supplied in this category to make it the best is X Power battery case.
X Power Battery Case Features
A number of ports is availed; 175Amperes Anderson Plug(×1), 50A Anderson plug(4×),
2× USB ports, cigarette lighter sockets(×2), and a output of AC type. Thus, you can easily use your battery while inside the case for all your needs. A circuit breaker cable that breaks the circuit when current exceeds 50A is also present. You do not risk anything while using this cable that comes with the case.
XPower battery case has fixing straps that are really sturdy, one fixed inside for your battery and the other one for fixing the battery itself. You get reliability with the straps. It also boasts of an in built completely sine inverter with a range between 1000-3000A.
Why X Power Batter Case
You might wonder why Li X Battery Box is not only the best China solar battery box but also the best option for all types of batteries. Well, apart from its prominent features, this box is able to hold an immnense 35kg load. Definitely, all your batteries lie within this weight. Moreover, it has an assortment of ports and as aforementioned, you do not need to remove the battery to do a special task, there is always a port to suit your needs.
Furthermore, the battery comes with high personalization of its features. You can also charge your battery using a number of means, be it solar, car or municipal charging. Variety in charging and output is a definite edge over many solar batteries.
Places You Can Use The Battery Box.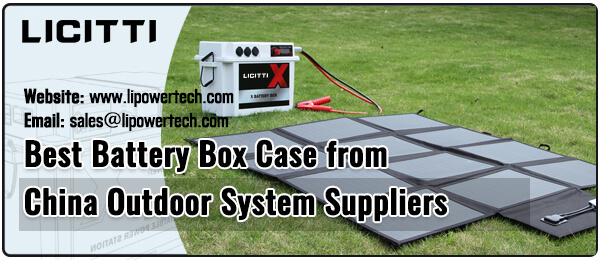 With its strong ABS cover and ability to be resilient to heavy loads, this battery case is usable in almost every scenario. You can use it for backing up you power, mount it on an automobile, marine needs like a yacht or an industrial off grid needs. The battery box has limitless areas of deployment so do not be afraid of grabbing one. You can also get a fire resistant ABS cover to use it with peace of mind at a bit precarious situations.
Packaging and Manufacturer Details.
Just as the box itself is of premium quality, the packaging also meets the standard it sets. The box comes in a premium box. Each of the six sides of the box is foam laden. Thus, there is safety in delivery and storage.
Li Power(Shenzhen) limited is the leading supplier of battery cases and electric gadgets in China. The company also deals with other products such as battery products, foldable solar panels, Lithium and AG power stations among other items. The company prides itself in quality and excellent client service.
You need to not only get value for your money but also quality that is never out of sophistication. With Li Power company, you will always get premium qualities. The Li X Battery Box is a good example of quality and high utility.