Various output models:
12.8V 120AH LiFiPO4 Portable Power Station- 25kg
12.8V 240AH LiFiPO4 Portable Power Station- 40kg

Core Function
This handy battery power station is perfect for the avid outdoors adventurer. You can choose from two designs that are identical to each other except that one has more Amp-hours. The first is rated for 120 Amperage hours while the second model has 240 Amperage hours. Both of these lithium portable power stations come packed with extra plugs and outlets.
This is one of the best off-grid camping battery solutions that can supply the needed power for all your gadgets. It's easily installed into your vehicle for those instant bug-out moments when you want to get away from it all. This model is even designed to be charged-up in your ride while you're on the road.
They also include extra accessories that come in handy when you need them. Bonus extras even include a Jump-start cable, Wattmeter kit, and extra Anderson plugs! Easy enough to lift with built-in side handles make these outdoor power stations quick to transport. This is one urban-living design that thought of everything you need for staying powered-up.
These rugged power stations also come with a generous 1-year warranty that starts when you receive the registration papers. These units also offer multi-protection breakers that make sure you never overload the power station itself. Multi-charging abilities include a built-in 12V Solar panel plug-in, DC-DC charger, and AC charger.
You'll be pleased to know that this lithium portable power stations charging ability are rated for 2000 charging cycles. With having 100% D.O.D. (Depth of discharge) in these lithium batteries, so the return cycle with not be affected whatsoever. This is one hard-working power station that won't leave you in the dark!
This outdoor power stations ability to be all-weather is further evident with secure locking plastic lids that cover outlets plugs. From the moment that you switch it on, the front display lights up and signals with a single beep. Right after that, all systems are Go! You can then start to power whatever electrical equipment you need up to 2500 Watts (12V 200A).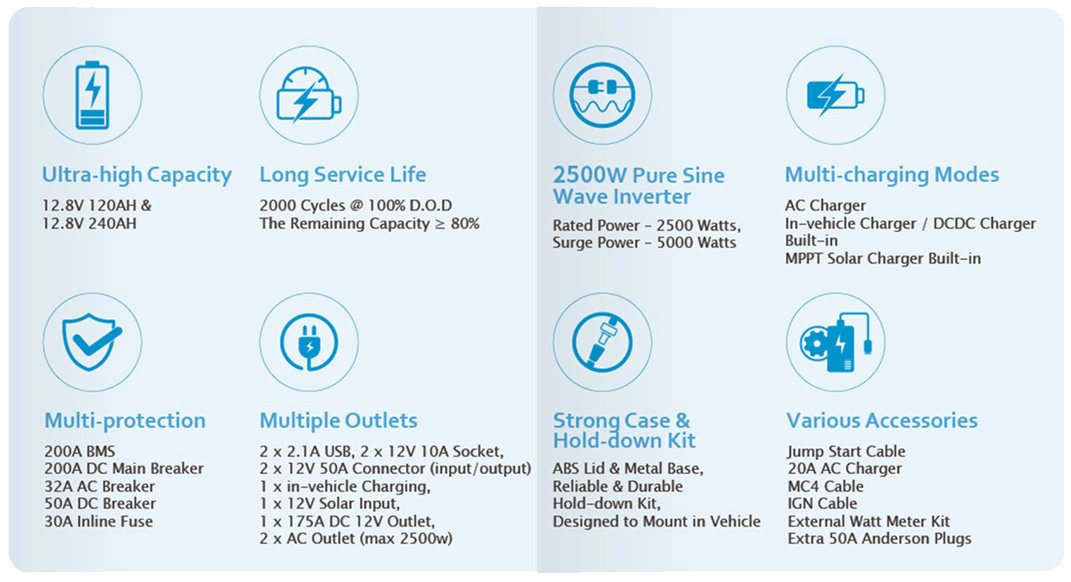 We're sure you want to check the 'specs' on this amazing battery power station. So listed below is all the info you'll need to search for. Since two versions have different amp hours, decide which one is better suited for you. Depending on how long you spend outdoors you can always depend on the LiPower 2500W Lithium Portable Power Station. There are other models out there but only this power station has you 100% covered.
Features
• Multiple outlets
1 USB connector: 2×2 1A 5V
2 DC sockets: 12V 10A
2 input/output connectors: 12V 50A
1 in-vehicle charging connector
1 solar input: 12V
1 DC outlet: 12V 175A (Hi-Amp)
2 AC outlets: 2500W (Maximum)
• Various accessories
1 Jump-start cable
1 AC charger: 20A
1 MC4 cable
1 IGN cable
1 External Watt Meter kit
Extra Anderson 50A plugs
• Strong case/Hold-down kit
ABS lid the metal base
Reliable and durable construction
Includes a Hold-down Kit
It's designed to mount into any vehicle also.
Capacity
• Multi-Protection
200 Amp BMS
200 Amp DC Main Breaker
32A AC Breaker
50A DC Breaker
30A Inline fuse
• Multi-charging models
AC Charger
In-vehicle Charger/ DC-DC Charger built-in
MPPT Solar Charger Built-in
• Long Service life
2000 Charging cycles at 100% D.O.D.
The remaining capacity ≥ (great than equal to) 80%
Output
• Ultra-high capacity
12.8V 120AH and 12.8V 240AH
• 2500 Pure sine wave Inverter
Rated power: 2500 Watts
Surging power: 5000 Watts
Unique Features
• DC Switch
All of the 12 Volt sockets and Anderson plugs that are included are controlled by a DC switch. The only exceptions include the 12V Solar Input and the In-vehicle Charger Input
• AC switch and display
One this power station is turned on the Display starts-up and activates the Inverter. This is followed by an audible Beep' alert.
• AC Breaker
On the front left corner, there is an AC Breaker switch. If the AC circuit is overloaded it can be switched back-on immediately by hand.
Warranty
One year factory warranty from the date the product arrives at you.
https://www.lipowertech.com/wp-content/uploads/2020/04/02-2500W-portable-outdoor-lithium-battery.jpg
260
600
lipowertech
https://www.lipowertech.com/wp-content/uploads/2022/02/LICITTI-Logo-Power-This-Moment.png
lipowertech
2020-03-28 20:45:08
2022-03-10 14:56:08
High Recommend 2500W Lithium Portable Power Station from China Factory