One of the most convenient ways of preventing or trips, power outages and other situations that may lead to inconvenience in the production because of power outage is having a good quality power station.
Whether it is outdoors or at your office or you live in an area that is isolated from the ordinary, a portable power station will be of great help. It will bring you the best value for your money by ensuring uninterrupted power supply so you could continue the core activity.
Lithium portable power stations are a type of rechargeable battery in which Lithium ion move from negative to positive electrode and those create charging which is available in the form of electricity. There are numerous Lithium portable power station suppliers in China and while choosing one of them you should opt for Li power (Shenzhen) technology co.
Advantages
Lithium Portable Power Station are advantageous because they are portable, can be a source stable power supply and are safe. Further, they have a high energy deisnty; they do not need priming, entail low and simple maintenance, and are available for a wide spectrum of applications.
Importance
To realize the best value for your money the battery the power source should be a portable affordable and efficient. this will help you keep your all your electronic devices and other devices operational when you are at work there are many options to choose from. Lithium portable power stations are the among the best options.
Why should you choose Li Power?
Situated in Shenzhen (China), Li Power is a company associated with making high-quality outdoor power equipment. The company has been in the business for over a decade and has executed outdoor power supply and electric power projects and is growing progressively.
The company is leader among Lithium Portable Power Station Suppliers in china.
The company is leading power station manufacturer in china. It has been in the business for several years for now. The company is committed to offering the best quality products to their customers.
X Lithium portable power station can be equipped into a vehicle. You can use it for your car and other vehicles for commercial use. These power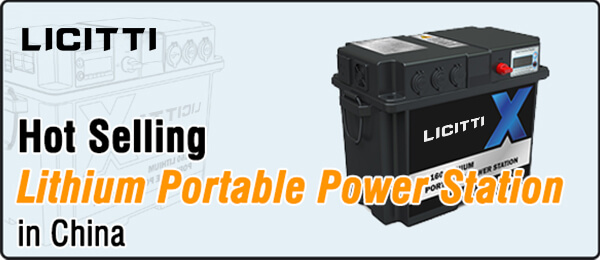 stations are safe. They are reliable and can be a great source of uninterrupted power supply.
Salient features of X lithium portable power station
It has a ultra high capacity range of power from 80AH to 180AH. Such high range can meet a whole gamut of power applications.It has AC/DC output with 12V DC Anderson plug output. and AC at 110v 220V output. The built in pure wave inverter has power range 300W/500W/1000W.It has safety configuration, has a built in 50A circuit breaker, AC output switch and main power switch and a multifunction integrated display in the interface.It has good interface, with two USB, tow female cigarette lighter sockets, one piece of 175 *Anderson plug, four Anderson plugs and one AC output socket. It can be charged at any time and to protect the car battery, it has built-in VSR and on board charging. Looks sleek, durable and is encapsulated in a sturdy ABS shell.
Wide range of applications
If you are looking for the best China Outdoors Power Station, choose Li Power. The products by Li power are extensively used in outdoor camping, off grid power system, yacht, RV and the like thinks to the high efficiency, easy and convenient portability, reliability and durability.