You should consider various types of battery cases wisely to find the best one for you. Many 12V battery box suppliers in China can provide you different types of battery boxes but you should focus on their technical excellence while choosing the best one. However, Li Power is considered as the best manufacturer and supplier in comparison to others in China because of the quality of the X Power battery cases provided by them
Features of X Power battery case
The X Power battery cases manufactured in the solar battery box factory of Li Power include a number of ports including 50A Anderson plug and 175A Anderson plug along with 2 cigarette lighter sockets, 1 AC type output port and 2 USB ports. In this way, this battery case can allow you to use your battery for all of your needs while keeping it inside this case. It also includes a circuit breaker cable to break the circuit when the power of your battery increases from 50A. Thus this cable in this battery case can reduce the risks of all kind.
This battery case also includes strong fixing straps to fix the battery itself as well as to fix the battery inside the case. Thus straps provide you the reliability to use your battery safely while placing it in the case. This case also includes a built-in inverter raging from 1000A to 3000A
Reasons to opt for X Power battery case
The X Power battery box manufactured in China outdoor battery box factory is the best battery box manufactured and supplied by Li power as it can adjust all types of batteries. This box is able to hold weight up to 35 kg. So, it can be suitable for almost all types of batteries. Moreover, you can use this box for all types of tasks due to various types of ports available on this box. In addition to it, its feature can make your battery highly personalized for you. Your battery can be charged through various sources including municipal charging and solar charging. Thus it makes your battery better than several other models of solar batteries.
Places to use X Power battery case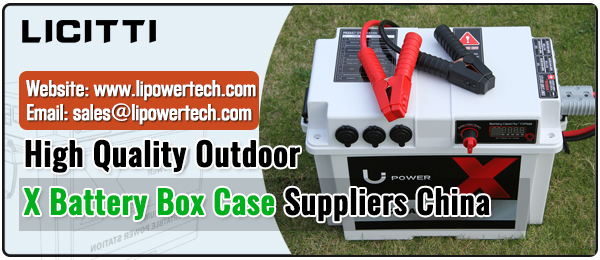 The X Power battery case can be used anywhere because of its ability to hold heavy-weight batteries and its strong cover made from ABS. it can be mounted on a vehicle, used for power backups, used for off-grid usage in industrial as well as domestic units along with marine needs. Thus you can use it at a wide range of applications. It can also be used in unstable conditions as its ABS cover can also resistant to fire.
Details of manufacturing and packaging X Power battery case
The X Power battery case manufactured by Li power in its solar battery box factory meets all the standards set by them t provide a premium quality product. Foam is laid in this box on all of its six sides to make it safe for the storage and delivery of the battery.
Thus, Li Power limited is one of the best 12V battery box suppliers in China. They produce and supply the best electrical gadgets and battery cases manufactured in their China outdoor battery box factory.