Traveling is an outdoor activity which affords a measure of relaxation to most individuals. Although there are different modes of transportation nowadays, you need a powerful enough car battery to start your motor. For the engine to start, the battery is supposed to be fully charged and its ability to store charges for a long time depends on the type of battery box used. There are a variety of battery boxes in the market but getting the best one will take time. Relax! I got a solution for you! Li Power battery box is your savior today. Read on to find out why and how.
Some tips and guides to know Li Power is best battery box supplier in China.
When looking for the best battery box around China local car supply shops or online to run your motor, you first need to consider a number of qualities. You need to find one that offers resistance to UV exposure, acid, and both hot and cold weather conditions. One that is able to protect water entry, escaping of battery acid and designed to facilitate adequate ventilation. Best battery box will not only save you money and time but also ensure you drive safely. Find out why and how Li Power turns out the best.
Type of battery
To fully understand a battery box, you need to first determine the type of battery you are using. There are batteries to start an engine and others for deep cycle functions like water running when the vehicle is off. Starting the engine batteries are 12V while deep cycle batteries are generally 6V.
Battery boxes are compatible with any battery but the ability of any battery to sustain energy for long depends on the type of box used. Li Power is an X Battery Box Suppliers which are efficient in power saving for a longer period of time when used with deep cycle batteries. Using them guarantees your battery longevity in the storage of charges.
Variety of features and uses
China Battery Box Factory manufactures products like X battery boxes with a variety of uses. X battery boxes are able to serve a number of China Outdoor Power System like outdoor camping, a photovoltaic system of home off-grid and systems of industrial off-grid, yacht and also supplying emergency power. They are also utilized in displaying battery and power supply status and allows compatible charging modes like car charging, solar charging, and municipal charging. Moreover, it's good in resistance to temperature when working.
Li Power battery boxes come with extensive number of features as compared to others. It has high strength ABS including fire-proof ABS, has rich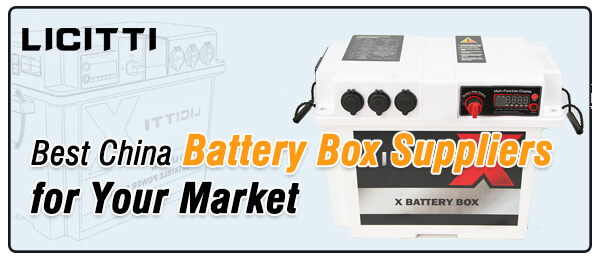 interfaces, has full coverage of both AC and DC, multiple plugs and ports like Anderson plugs, cigarette lighter sockets and USB. Besides, it's portable and easy to fix. It also contains an in-built inverter which allows stepping up voltage for a variety of uses.
Weight and cost
Li Power owns one of the best battery boxes like X battery box which is super heavy (about 35kg) to ensure that the battery protected doesn't tilt and also prevent unnecessary coming out of liquids. The best battery box is needed to be heavy enough to accommodate any kind of battery and avoid tilting even when the car is riding on rocky ground.
Now that you have a rudiment understanding of best battery box features, next is to make it fit in your budget. You need to evaluate a number of brands in the market for and come up with an affordable one. Without any doubt, Li Power battery boxes come with the most affordable prices to everyone. Visit websites http://www.lipowertech.com/ to contact Li Power