Li Power Battery Box is a waterproof portable battery box ideal for outdoor camping travel. It can also be used as a solar power battery box. This battery box can be extreme customized and can be sold under another manufacturer's brand name without anybody knowing that it's from a china manufacturer.
It has a maximum bear load capacity of 35 kg and has a sturdy ABS body with multiple power ports. It has a multi-functional display control that informs about the amount of power available or being consumed. It's portable and easy to install. It boasts rich interfaces and compatibility with different charging modes such as solar charging, car charging, and municipal charging. It's compatible with all kinds of batteries including lithium batteries.
Applications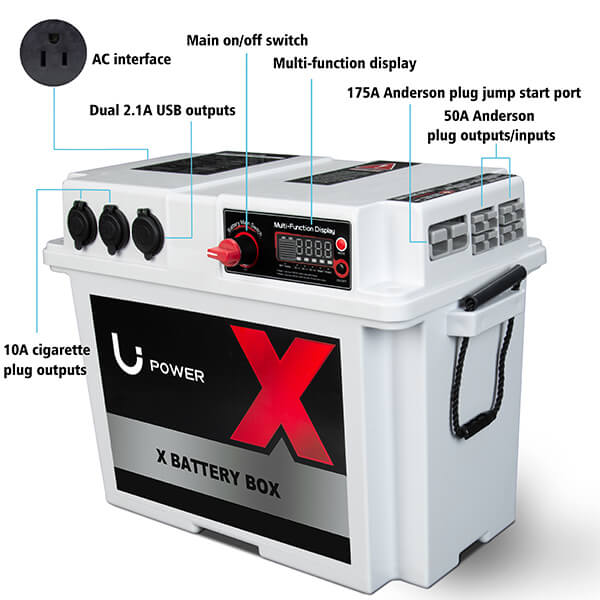 It can be used for outdoor camping in RVs and yachts. It can also be used for solar power, emergency and backup power, and industrial off-grid power supply systems.
Product specifications
4 50-amp Anderson plugs
2 USB ports
2 cigarette-lighter sockets
1 AC output 1 175-amp Anderson plugs
Multi-function display
2 hold-down straps (one for battery & battery box each)
50-amp breaker or 50-Amp fuse cable
1-year warranty on the battery box
OEM & ODM
Li power manufactures these battery boxes as an original equipment manufacturer (OEM) and original design manufacturer (ODM). These products are available for other manufacturers to market under their brand names. Li power supports OEM and ODM services including the making of stickers, retail cartons, and boxes.
Businesses who want to market Li Power's battery boxes or any other product from the company can contact Li Power and discuss their plan. The company has a growing list of wholesalers who procure these power industry products and equipment from Li Power and sell them under their brand names in their respective markets.
When you do business with Li Power, you know you are working with a manufacturer who does most of the R&D and innovations itself. It has a competitive advantage over other players in the same space because it has been in the industry for quite a while and know the power industry very well.
Li Power Outdoor Power System Manufacturer
Based in China's Shenzhen, Li Power is a leading power industry equipment maker. The company has earned global repute for research and manufacture of power industry equipment. Li Power supplies quality power solutions and equipment at economical prices to retailers around the world. The company has over three decades' experience in designing and manufacturing lead-acid and lithium batteries. It has also been designing and producing solar power products for over a decade now.
Li Power products
Li Power has an extensive range of products under its brands. These include outdoor power systems for both home and industrial use, outdoor lithium battery, foldable solar panel, pure sine-wave inverter, and solar blanket, among many other power industry products. Li Power products have a formidable reputation for being highly efficient, durable, and high-performing units. These power products can be used in homes and industries as well as in outdoor camping travel, yachts, RVs, and off-grid systems.
R&D
At its Shenzhen factory, Li Power has an extensive range of facilities for conducting tests, designing new products, and manufacturing. It is deeply engaged in product innovation research that helps it come up with new and innovative products at economical prices.
Li Power's battery box
Li Power's battery box is a popular item that efficiently stores batteries and together works as a powerhouse for your off-grid power requirements both at home and industries as well as during outdoor vacation to a camping site. These battery boxes are designed to be superbly efficient in meeting all possible power needs. This can also work as a solar power battery box that smartly hides away all the PV batteries. This is a portable battery box, which is also waterproof. This is a great battery box for outdoor camping travel. Its China manufacturer is known for making high-quality power industry products and equipment.
Final thoughts
Li Power is a reputed power industry equipment maker, known for manufacturing economically-priced products. Its battery box is a multi-faced and versatile product that can find applications in many different walks of life and situation. The great thing about the product is that it is available for rebranding and reselling. This means if somebody wants to put his company's stickers and sell it as a product from his factory, he can do so.
https://www.lipowertech.com/wp-content/uploads/2020/04/03-Terminal-custom-solar-cell-case.jpg
260
600
lipowertech
https://www.lipowertech.com/wp-content/uploads/2022/02/LICITTI-Logo-Power-This-Moment.png
lipowertech
2020-03-28 20:28:21
2022-03-03 16:08:50
Extreme Customized Solar Power Battery Box China Manufacturer